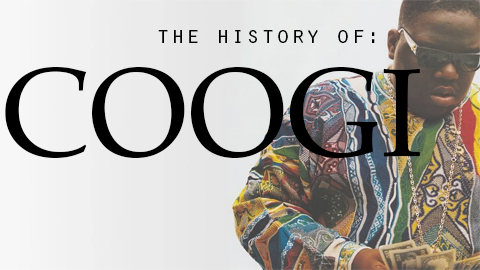 Coogi: the coolest knitwear company of the 90s
'Livin' better now, Coogi sweater now'  - The Notorious B.I.G.
You're about to learn about Coogi, a high quality Australian fashion brand that became one of the most famous streetwear names around.
What is Coogi? A Definition

Coogi is an Australian fashion brand best known for its knitted sweaters with unconventional patterns. In addition to clothing, they also carry cosmetics, toiletries, leather goods, furniture, textiles and toys. Its current headquarters are located in New York in the United States.
The Coogi Pattern


The famous Coogi sweater pattern is made up of 3 signature elements:
1. Asymmetrical wave shapes
2. A variety of textures
3. Bright colours
These 3 elements give Coogi its energetic vibrancy. They are meant to convey the rich and exotic Australian landscape and culture. 
Coogi Facts

1. The brand's original name, Cuggi, is taken from a fountain on the tiny island of Alacoueli in the Adriatic Sea. Jacky Taranto's father emigrated from there to Australia in the 1930s.
2. Egyptian designer Hazem Elsheltawi is the original creator of the unique Coogi fabrics. He has also done work for the Common Wealth Games and Oprah Winfrey. Talk about swanky!
3. The Coogi pattern was honored for its craftmanship by being inducted into Smithsonian Cooper-Hewitt, a museum dedicated to the collection of historic and contemporary design.
4. The brand is mistakenly called the Cosby sweater though Cosby never wore Coogi sweaters.  The costume designer on the Cosby show thought Coogi sweaters were too bright and gaudy for Dr. Huxtable. 
5. The Brooklyn Nets are in trouble with Coogi. Their 2018-19 "City" edition jerseys were inspired by Coogi and pay tribute to Biggie. Coogie is now suing the Nets for using their brand and incorporating it into the jerseys without permission.
6. Coogi founder, Jacky Taranto died in a car accident in March of 2007. She was in Queensland Australia when this happened. 
Coogi History


1969 - The brand is founded by Jacky Taranto in Melbourne, Australia as Cuggi.
1987 - The brand renames itself from Cuggi to Coogi, to closer resemble an Indigenous Australian name, and to avoid infringement of USA clothing trademarks.
1994 - Biggie Smalls propels Coogi to fame in urban culture. He name drops the brand in hits like "Big Poppa" and "One More Chance", which skyrockets Coogi's popularity.
2002 - Coogi declines in popularity. Jacky Tarantino sells the brand to US investors Norman Weisfeld, Bruce Weisfeld and Jimmy Khezri for 25 million dollars. The Coogi name is licensed to various discount manufacturers who don't uphold the apparel quality, diluting the brand's luxury appeal.

2014 - Coogi experiences a resurgence in popularity due to the 90s comeback.  The brand relaunches with a focus on men's sweaters.
Want your own vintage Coogi sweater? Shop our Coogi selection now at the Filthy Rebena online store.