6 Versace Facts Everyone Needs to Know
Versace is an Italian luxury fashion company founded by Gianni Versace in 1978. The brand is known for its glamourous clothing that appeals to the world of artists, actors and fashion aficionados. What is your favourite Versace era?  We will give you a hint to ours as we say GIDDY UP with some fun facts!
1. Versace is usually pronounced wrong
In an interview with Vogue, Gianni Versace's sister, Donatella revealed that most people have been pronouncing Versace wrong. She says that it's 'Versachee' not 'Versach-eh."
2. The J. Lo green dress is iconic
Celebrity Jennifer Lopez wore a spicy jungle print Versace dress to the Grammy Awards in February, 2000. It stirred up buzz and people who missed the show jumped on the internet to hunt down pictures of her wearing the dress. The amount of people who searched was so massive that it prompted Google to create Image Search!
In 2019, J-Lo wore an updated version of the dress at Versace's SS20 show during Milan Fashion Week, capturing the attention of the fashion world again.
3. Their logo is tied to Greek mythology
The fashion brand's logo is the head of Medusa, a Greek mythological figure. Medusa was chosen by Versace as the logo because of her power to make people fall in love with her. They hoped their clothing would have the same effect on people. 
4. The Versace family faced tough times
Gianni Versace shocked the world when he was shot and killed in 1997 outside his Miami mansion by serial killer Andrew Cunanan. After he died, his family members inherited Versace. Donatella became the new face of the brand and guided the company into the 2000s.
5. They have innovative fashion ideas
Versace is known for stunning the world with its fashion designs. They often mix unusual materials with bright colors, leading to designs that ooze innovation. Versace's tribute collections like the Native American or Pop Up collections are a great example of this.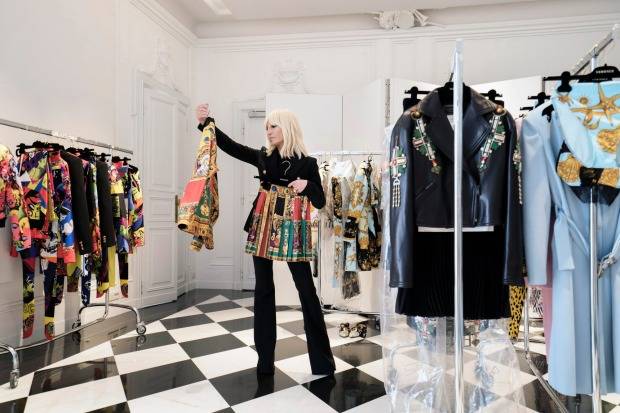 6. Versace is fur free
They no longer use fur. Versace phased fur out of its products starting in 2019, saying they were not interested in killing animals to make fashion. This decision came in wake of other fashion brands going fur free like Gucci.
Want to own vintage Versace? Shop our Versace selection now at the Filthy Rebena online store.  It is time to get OPULENT hunni!